Thursday, May 13, 2021 / by Lindsey Haas
Why You Should Not Sell Your Home Alone
Posted by

Lindsey Haas

on Monday, February 10, 2020
If you have been thinking about selling your North-Atlanta metro area home and have been tempted to do a FSBO (For Sale by Owner) sale, read this first!
We know it's tempting! In your mind, you may be thinking to yourself - "I see all these houses selling quickly so I know the market must be hot! I don't need a realtor; I just need to put a sign out in our yard, and it will sell itself in days!" The truth is, it's not that simple.
The days of selling your home with an ad in the paper and a sign in your yard, are long gone. Today's real estate market is about staging, pricing, and online marketing strategies. We know that this combination of expertise is crucial to getting TOP DOLLAR for your home and getting it sold quickly. Is that something that you think you could accomplish on your own?
And don't underestimate the paperwork! The sheer amount of it can be daunting, not to mention the various legal forms required to list your home, such as property disclosures, addendums, and the sales contract. As a novice in home-selling, do you really understand what these forms mean?
If you've never conducted a real estate transaction before, can you be sure that the buyer's agent isn't trying to pull the wool over your eyes? When you sell your own home to a buyer that is represented by a Realtor®, it's important to remember that agent is representing the best interests of their client only. That agent has no obligation to represent any of your interests in the transaction. So why would you want to compromise your negotiating leverage that way?
Not convinced you should sell with a Realtor?
Maybe this story will help you change your thinking.
Just last week, I had a client list their home with me. The listing was set to go live in the MLS on Wednesday, but we received an offer for full asking price just hours prior. I called my client to tell them, and of course they were excited and ready to take it. With my years of experience, I know that this is sometimes the best thing for the seller, but in this instance, I knew that we should wait. I asked my seller to let us get the listing live, hold our open houses over the weekend, and we could go over the offer (or offers) on Monday. They agreed.
The rest of the week was crazy! We had so many showing requests that we had agents in the home back-to-back. The open houses proved to be just as busy! We had nearly 40 potential buyers walk through the property over the weekend and by Sunday night, we had 19 offers waiting to discuss with the seller on Monday morning!
Imagine if we had just taken the first offer? I tell people all the time that the FSBO and "coming soon" strategies are only for the benefit of the agent who is trying to double-dip. Or for agents to get buyer leads and sell them a different home. It is important not to fall for these tactics when preparing to sell your home; your listing needs to be in the MLS!! Selling your home For Sale by Owner (FSBO) or through a Coming Soon sign is like putting your product in a small-town boutique versus putting it in the MLS, which is like putting your product on the shelves of every Walmart in the nation and online!
STILL not convinced?
Check out the infographic for a few more reasons to consider listing with a experienced Realtor: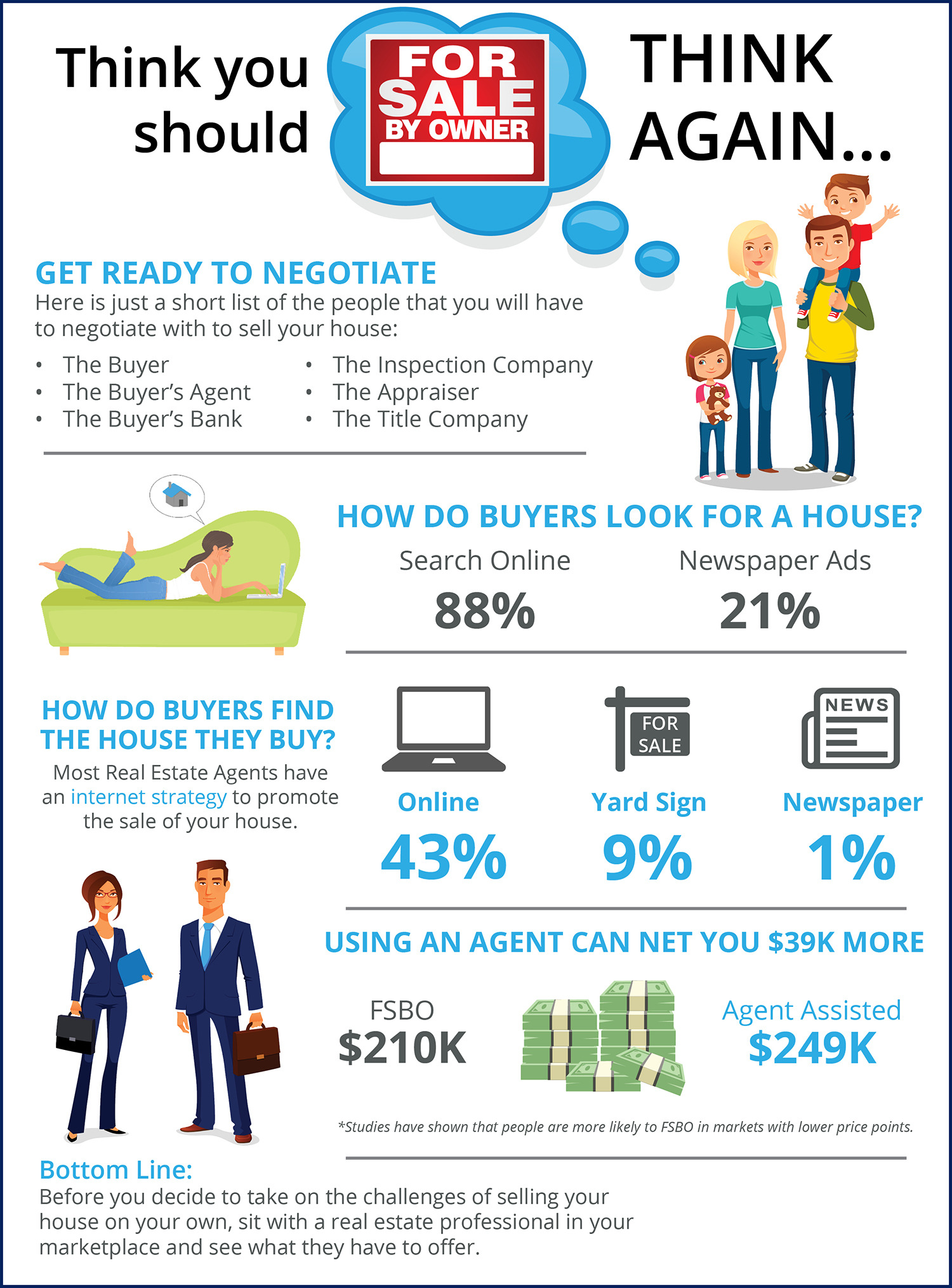 Now that you're convinced not to sell FSBO, it's time to choose a Realtor who will work for YOU!
The Lindsey Haas Team has the experience and know-how to get your home sold using our proven staging, pricing, and online marketing strategies! Don't let just any agent sell your home, list it with The Lindsey Haas Team – we know how to get results!
I would love an opportunity to earn your business, exceed your expectations, and to prove to you that we are more than just an agent and you are more than just a transaction!



Phone(678) 933-1962






AddressThe Lindsey Haas Real Estate Team
310575
9860 Highway 92
Woodstock, GA 30188
"We use the Team Approach because one person can't do everything as well as a group of skilled experts can!"